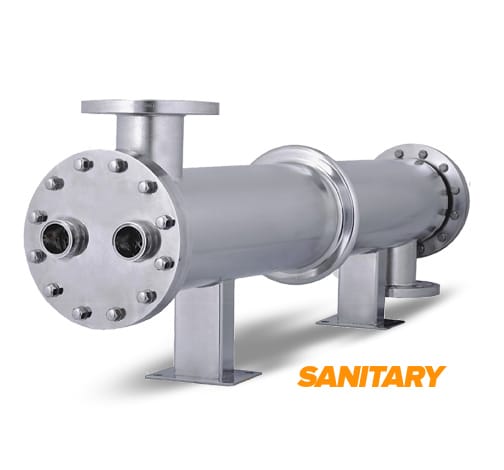 P-Line Sanitary Heat Exchangers
Pharmaceutical & Food Grade Heat Exchangers
Characteristics
FDA, cGMP, ASME, and 3A requirements
Stainless Steel 316 construction
Double tubesheet construction
Construction without dead spots, minimizing possibility of microbial growth
Polished to Ra < 0.5um
Certified seamless tubes polished internally and externally
One-, Two-, or Four-pass type interchangeable heads
Vertical or horizontal mounts available
Specifications
Brochure
We offer products of the highest quality and reliability to satisfy our customers' most rigorous demands.
Standard Materials
Maximum Working Pressure
Up to 145 PSI (10 bar) in Tubes
Up to 232 PSI (16 bar) in Shell
Maximum Working Temperature
Up to 284 °F (140°C) Tube Side (Viton Seal)
Up to 250 °F (121°C) Tube Side (Silicon Seal)
Up to 397 °F (203°C) Shell Side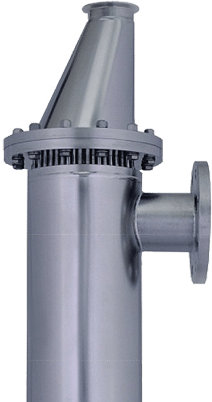 Pharmaceutical and Sanitary Heat Exchangers
P-Line – a series of exchangers for pharmaceutical and food industries and suitable for all other applications that are in compliance with FDA and 3A.
The unique construction of P-Line series exchangers reduces the risk of cross-contamination of the media even in the case of unsealing of the tubesheet-tube connections; it also ensures correct operation in applications requiring the highest standards.
Applications
Food & dairy Industry:
Juice and syrup handling
Chocolate and high viscosity products handling
Brewery
Milk cooling
Pasteurization
Pharmaceutical:
Clean steam
Blood, plasma or media growth heating systems
Water for injection systems (WFI)
Process equipment
Industries
Pharmaceutical
Biotech
Food processing
Beverage production
Dairy
Cosmetics / Fragrances
Semiconductor
High purity
The product information and literature on this website are intended as a guideline for general purposes only. Models, dimensions, and operational parameters are subject to change at AIC's discretion. Contact AIC directly for updated design specifications.
P-Line Technical Product Specifications
Type
Heat Exchange Area
Numer of Passes
Dimensions [mm]
A
B
C
D
ØDz
m²
ft²
Tube Side
mm (in)
mm (in)
Type 1P
mm (in)
Type 2P
mm (in)
Type 4P
mm (in)
mm (in)
mm (in)
P-080.070.08
0.5
5.4
1P
172 (6.77)
520 (20.47)
1005 (39.57)
300 (11.81)
89 (3.50)
P-080.110.08
0.5
5.4
1P
172 (6.77)
960 (37.80)
1445 (56.89)
300 (11.81)
89 (3.50)
P-080.140.08
1.1
11.8
1P
172 (6.77)
1260 (49.61)
1745 (68.70)
300 (11.81)
89 (3.50)
P-100.070.08
0.9
9.7
1P
190 (7.48)
520 (20.47)
1040 (40.94)
325 (12.80)
114 (4.49)
P-100.110.08
1.5
16.1
1P
190 (7.48)
960 (37.80)
1480 (58.27)
325 (12.80)
114 (4.49)
P-100.140.08
1.9
20.4
1P
190 (7.48)
1260 (49.61)
1780 (70.08)
325 (12.80)
114 (4.49)
P-125.110.08
2.2
23.7
1P, 2P
204 (8.03)
960 (37.80)
1510 (59.45)
1280 (50.39)
350 (13.78)
140 (5.51)
P-125.140.08
2.9
31.2
1P, 2P
204 (8.03)
1260 (49.61)
1810 (71.26)
1580 (62.20)
350 (13.78)
140 (5.51)
P-125.150.08
3.1
33.4
1P, 2P
204 (8.03)
1370 (53.94)
140 (ccc)
1920 (75.59)
350 (13.78)
140 (5.51)
P-150.110.08
3.3
35.5
1P, 2P
217 (8.54)
960 (37.80)
1540 (60.63)
1255 (49.41)
370 (14.57)
159 (6.26)
P-150.140.08
4.2
45.2
1P, 2P
217 (8.54)
1260 (49.61)
1840 (72.44)
1555 (61.22)
370 (14.57)
159 (6.26)
P-150.190.08
5.8
62.4
1P, 2P
217 (8.54)
1790 (70.47)
2375 (93.50)
2085 (82.09)
370 (14.57)
159 (6.26)
P-200.140.08
6.1
65.6
1P, 2P, 4P
282 (11.10)
1220 (48.08)
2035 (80.12)
1570 (61.81)
1570 (61.81)
460 (18.11)
219 (8.62)
P-200.190.08
8
86.1
1P, 2P, 4P
282 (11.10)
1700 (66.93)
2515 (92.02)
2046 (80.55)
2045 (80.51)
460 (18.11)
219 (8.62)
P-200.210.08
9.5
102.2
1P, 2P, 4P
282 (11.10)
1985 (78.15)
2800 (110.24)
2335 (91.93)
2335 (91.93)
460 (18.11)
219 (8.62)
P-250.110.08
8.7
93.6
1P, 2P, 4P
351 (13.81)
910 (35.83)
1920 (75.59)
1285 (50.59)
1285 (50.47)
553 (21.77)
273 (10.75)
P-250.140.08
11.2
120.5
1P, 2P, 4P
351 (13.82)
1210 (47.64)
2220 (87.40)
1580 (62.20)
1582 (62.28)
553 (21.77)
273 (10.75)
P-250.190.08
15.1
162.5
1P, 2P, 4P
351 (13.82)
1685 (66.34)
2695 (106.10)
2060 (81.10)
2060 (81.10)
553 (21.77)
273 (10.75)
Flow types: 1P – one-pass, 2P – two-pass, 4P – four-pass


K4/K1 tubes inlet / outlet side sanitary side

K2/K3 shell inlet / outlet side non-sanitary side