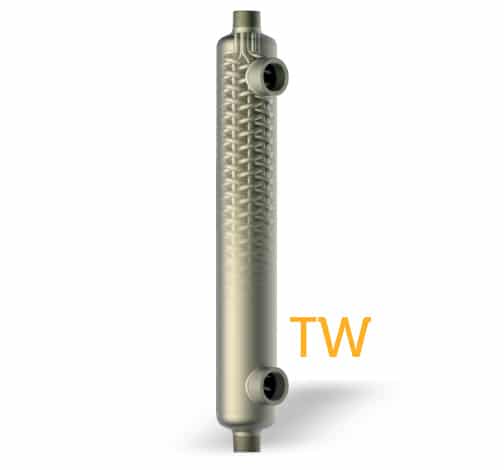 TW-Line Heat Exchangers
Shell and Coil Heat Exchanger
Made with pure Titanium, the innovative distinct TW Line design is a fusion of functionality and cutting edge thermal technology. The unique geometry of the TW Line optimizes flow turbulence and increases the heat transfer coefficient, and along with its versatile assembly, provides the perfect solution for your diverse application.
Specifications
Brochure
Video
Typical applications include
Pools, spas, hot tubs heated by high temperature sources (steam, refrigerants, solar)
Evaporators/Condensers
Marine/saltwater application
Applications with extremely high salt water concentration
Corrosive fluids
Standard Materials
Titanium coils
Titanium Shell
Maximum Working Pressure
Up to 150 PSI (10 bar) in Tubes/Shells
Maximum Working Temperature
Up to 248°F (120°C) Tube Side
Up to 248°F (120°C) Shell Side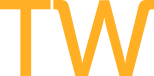 Each intricate design is versatile, yet grounded in rigid standards
A unique heating coil geometry that captures and enhances the closest of temperature approach. A one-piece welded pure titanium masterpiece, intrinsically designed for the most aggressive of environments. Exceptional material strength and corrosion resistance, matched with unparalleled quality.
Distinct Advantages
Total immunity to salt corrosion even at high temperatures
Ultra-high thermal performance
Coil expansion handles extreme temperature differences
Light weight
Condensate sub-cooling
Typical Swimming Pool Installation
Boiler
Heat Exchanger
Swimming Pool
Pump
Filtration
Chlorine Feeder
Circulation Pump
Flow Control Valve
Gate Valve
Check Valve
Thermometer
Safety Relief Valve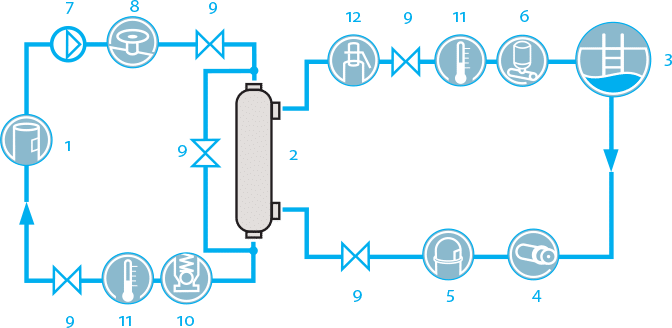 The product information and literature on this website are intended as a guideline for general purposes only. Models, dimensions, and operational parameters are subject to change at AIC's discretion. Contact AIC directly for updated design specifications.
TW-Line Technical Product Specifications
Heat Exchanger Model
Nominal Capacity
Hot Water Side (Tubes)
Cold Water Side (Shell)
Flow
Pressure Drop
Flow
Pressure Drop
kW
Btu/Hr
l/min
USGPM
kPa
PSI
l/min
USGPM
kPa
PSI
TW-100
29
100,000
17
4.6
6.1
0.9
38
10.0
0.3
0.1
TW-200
57
200,000
28
7.5
26.7
3.9
61
16.0
1.4
0.2
TW-300
87
300,000
36
9.5
63.2
9.2
76
20.0
2.9
0.4
TW-400
113
400,000
35
9.1
71.7
10.4
265
70.0
40.7
5.9
Nominal values are based on heating water 180°F (82.2°C ) and return pool water 80°F (26.7°C )

Heat Exchanger Model
Dimensions
Connections
Heat Transfer Area
L
A
B
C
Ø D
F
G
mm
in
mm
in
mm
in
mm
in
mm
in
Shell
Tubes
㎡
sq ft
TW-100
332.6
13.1
108.9
4.3
134.6
5.3
99.0
3.9
90.4
3.6
1 1/2"
1 1/4"
0.21
2.24
TW-200
530.6
20.9
108.9
4.3
332.6
13.1
99.0
3.9
90.4
3.6
1 1/2"
1 1/4"
0.38
4.15
TW-300
758.6
29.9
108.9
4.3
560.6
22.1
99.0
3.9
90.4
3.6
1 1/2"
1 1/4"
0.58
6.26
TW-400
910.6
35.9
108.9
4.3
712.6
28.1
99.0
3.9
90.4
3.6
1 1/2"
1 1/4"
0.72
7.71