B-Line Heat Exchangers
Shell and Straight Tube Heat Exchanger
B-Line heat exchangers are fabricated with the distinctive AIC helically corrugated tube design.
Intended for use with high fluid flows and low temperature variances, these robust, compact heat exchangers are ideal for many residential and industrial applications.
B-Line's complete stainless steel welded structure ensures product strength and high quality performance.
Specifications
Brochure
Video
AIC shell and tube heat exchangers produce high output and excellent heat transfer capability.
Typical applications include
Chlorinated pools, spas, hot tubs
Transmission and engine coolers
Oil coolers
Boiler sample cooler
Waste water heat recovery
In-floor heating
Standard Materials
Maximum Working Pressure
Maximum Working Temperature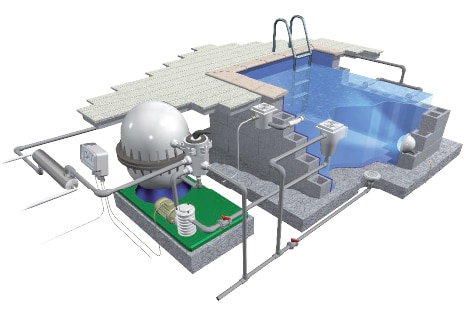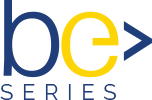 AIC shell and tube heat exchangers
The AIC series of pool heat exchangers define innovation with attention to design excellence and uncompromising quality. These market-proven products excel in the most rigorous and demanding of environments with unsurpassed performance and finesse.
Advantages
Simple robust and compact design requires minimum installation space
Perfectly suited for applications with high fluid flows and low temperature variances
The units can be connected to a varied heat source, e.g. different boiler types, heat pumps or solar panel systems
Large number of heat transfer tubes provides excellent thermal efficiency, reducing overall energy costs
Easy installation into the pool piping system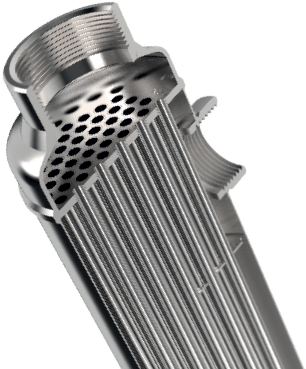 The product information and literature on this website are intended as a guideline for general purposes only. Models, dimensions, and operational parameters are subject to change at AIC's discretion. Contact AIC directly for updated design specifications.
B-Line Technical Product Specifications
Heat Exchanger Model
Nominal Capacity
Hot Water Side (Tubes)
Cold Water Side (Shell)
Flow
Pressure Drop
Flow
Pressure Drop
kW
Btu/Hr
l/min
USGPM
kPa
PSI
l/min
USGPM
kPa
PSI
B-45
13
45,000
23
6.08
6.2
0.90
150
39.63
7.4
1.07
B-70
20
70,000
25
6.60
7.5
1.09
170
44.91
9.2
1.33
B-130
38
130,000
27
7.13
8.1
1.17
200
52.83
11.4
1.65
B-180
53
180,000
30
7.93
2.7
0.40
210
55.48
7.5
1.10
B-250
73
250,000
35
9.25
4.2
0.60
270
71.33
12.0
1.70
B-300
88
300,000
40
10.57
6.4
0.90
300
79.25
17.0
2.50
B-500
146
500,000
55
14.53
9.2
1.30
360
95.10
22.0
3.20
B-1000
293
1,000,000
95
25.10
16.2
2.35
705
185.24
29.1
4.22
Nominal values are based on heating water 180°F (82.2°C ) and return pool water 80°F (26.7°C )

Heat Exchanger Model
Dimensions
Connections
Heat Transfer Area
L
A
B
C
Ø D
F
G
mm
in
mm
in
mm
in
mm
in
mm
in
Shell
Tubes
㎡
sq ft
B-45
267
10.51
106
4.17
111.5
4.39
77.5
3.05
80
3.15
1"
3/4"
0.183
1.97
B-70
345
13.58
106
4.17
175
6.89
85
3.35
80
3.15
1 1/2"
3/4"
0.259
2.79
B-130
395
15.55
106
4.17
225
8.86
85
3.35
80
3.15
1 1/2"
3/4"
0.307
3.30
B-180
383
15.08
128
5.04
193
7.60
95
3.74
101.6
4.0
1 1/2"
1"
0.465
4.91
B-250
513
20.20
128
5.04
323
12.72
95
3.74
101.6
4.0
1 1/2"
1"
0.677
7.29
B-300
632
24.88
128
5.04
442
17.40
95
3.74
101.6
4.0
1 1/2"
1"
0.871
9.38
B-500
1085
42.72
128
5.04
884
34.80
100
3.96
101.6
4.0
2"
1"
1.609
17.32
B-1000
917
36.10
167
6.57
676.5
26.63
120
4.72
139.7
5.5
2"
2"
2.200
23.68