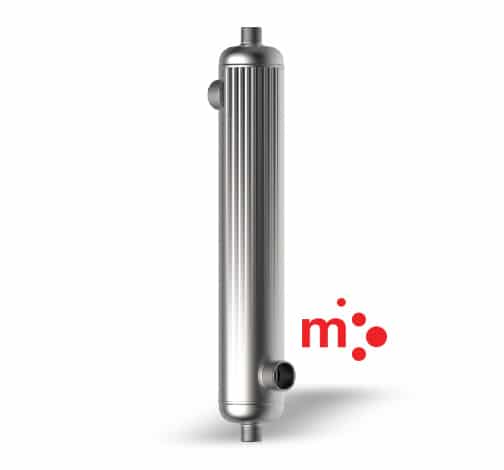 M-Line Marine Alloy Heat Exchangers
Salt Water Pool Heaters – Shell and Straight Tube Heat Exchanger
M-Line heat exchangers are a line of completely welded heat exchangers made entirely of a super austenitic marine alloy. Its compact structure is an integration of innovative material with detailed engineering for effective use with high fluid velocities and low pressure drops, designed specifically for salt water pool applications.
The versatility of this robust straight tube design covers a comprehensive range of capacities, suitable for all residential and commercial pool applications.
Specifications
Brochure
Video
Unrivaled In Its Perfection
Typical applications include
Salt water pools, spas, hot tubs
Transmission and engine coolers
Marine Oil coolers
Boiler sample coolers
Waste water heat recovery
Standard Materials
Nicrom 24 (super austenitic alloy)
Maximum Working Pressure
Maximum Working Temperature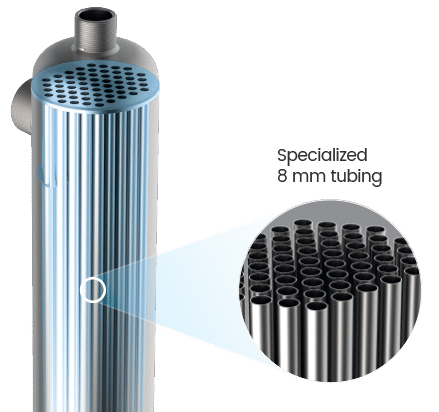 Experience an AIC Pool Product: heat exchangers that are efficient in nature, compact in design, and pioneering at heart.
Combine engineering ingenuity with nature's vitality, and yield a resilient, super austenitic marine alloy product series that has continuously demonstrated its superior performance and strength over other commercially marketed marine alloys. True to form, the M-Line is a marriage of resistances: superior corrosion resistance with high erosion corrosion resistance, highly valued for its use in  seawater and salt water environments.
Distinct Advantages
Superior corrosion resistance provides protection for salt water and other marine applications.
High erosion corrosion resistance suitable for applications with high fluid velocities.
High material strength for quality performance and long product life.
Low pressure drops.
Typical Swimming Pool Installation
Boiler
Heat Exchanger
Swimming Pool
Pump
Filtration
Chlorine Feeder
Circulation Pump
Flow Control Valve
Gate Valve
Check Valve
Thermometer
Safety Relief Valve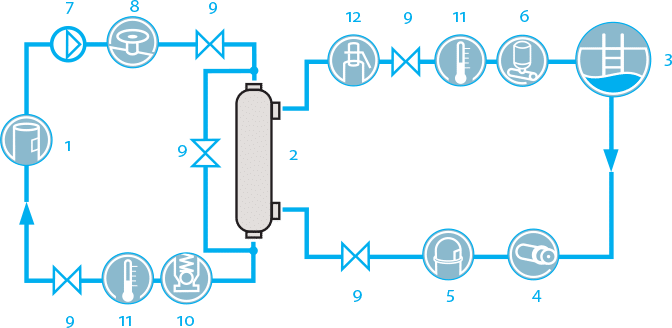 The product information and literature on this website are intended as a guideline for general purposes only. Models, dimensions, and operational parameters are subject to change at AIC's discretion. Contact AIC directly for updated design specifications.
M-Line Technical Product Specifications
Heat Exchanger Model
Nominal Capacity
Hot Water Side (Tubes)
Cold Water Side (Shell)
Flow
Pressure Drop
Flow
Pressure Drop
kW
Btu/Hr
l/min
USGPM
kPa
PSI
l/min
USGPM
kPa
PSI
M-180
53
180,000
100
26.4
7.0
1.0
150
39.6
8.7
1.3
M-300
88
300,000
105
27.7
8.2
1.2
157
46.6
8.6
1.3
M-500
146
500,000
120
31.7
11.4
1.7
180
47.6
11.8
1.7
Nominal values are based on heating water 180°F (82.2°C ) and return pool water 80°F (26.7°C )

Heat Exchanger Model
Dimensions
Connections
Heat Transfer Area
L
A
B
C
Ø D
F
G
mm
in
mm
in
mm
in
mm
in
mm
in
Shell
Tubes
㎡
sq ft
M-180
402.1
15.8
160.0
6.3
193.0
7.6
104.6
4.1
103.6
4.1
1 1/2"
1"
0.44
4.70
M-300
651.1
25.6
160.0
6.3
442.0
17.4
104.6
4.1
103.6
4.1
1 1/2"
1"
0.84
9.00
M-500
1104.1
43.5
160.0
6.3
895.0
35.2
104.6
4.1
103.6
4.1
1 1/2"
1"
1.56
16.80