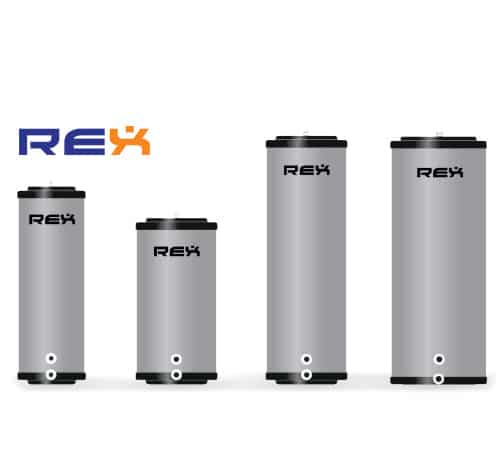 REX Tank Heat Exchangers
Instantaneous Indirect Water Heaters
The new generation REX instantaneous indirect water heaters are engineered for high heating efficiency. REX heaters use the boiler to heat domestic water instantly upon demand. As the boiler water enters the tank (not the coils) it is stored, ready for a domestic water call.
REX heaters also act as a buffer tank to eliminate boiler short cycling. The boiler water is circulated in a closed loop system, thus extending boiler life.
The REX indirect instantaneous system offers high efficiency, long life and an economical way of heating domestic water as there is no stagnant water in the coils. It virtually eliminates bacterial growth.
Specifications
Brochure
Applications
Domestic
Commercial and industrial institutions (hotels, apartments, schools, hospitals)
Excellent for close temperature approach applications
Maximum Working Pressure
Maximum Working Temperature
Standard Materials
Completely passivated stainless steel construction.

Our stainless steel indirect water heaters are ideal for use with hydronic, radiant heat, and steam heating systems.
The stainless steel distributor is the key to proper distribution of the boiler water over the coil tubes to give peak heat transfer as the hot water cascades through the coils, providing greater turbulence as it reaches the bottom distributor plate.
Constructed from stainless steel, the REX water heaters are built to last. All of the REX tanks are designed to be used for modular installations and all will fit through a 30 inch doorway.
The REX heaters are an efficient solution for new projects and are ideal for retrofit applications to improve existing system performance and reduce installation costs.
The product information and literature on this website are intended as a guideline for general purposes only. Models, dimensions, and operational parameters are subject to change at AIC's discretion. Contact AIC directly for updated design specifications.
Rex Technical Product Specifications
Heat Exchanger Model
Characteristics
Geometrical Dimensions
Weight
Connections
Tank Capcity
Heat Transfer
A
B
Domestic Water
Water Boiler
l
g
m2
sq ft
mm
in
mm
in
kg
lbs
in
in
REX 150
151
40
3.2
34.4
504
19.8
5767
61.7
46.3
102
1
1
REX 190
189
50
3.7
39.9
595
23.4
1300
51.2
53.5
118
1.5
1.5
REX 300
303
80
3.7
39.9
595
23.4
1923
75.7
81.6
180
1.5
1.5
REX 435
435
115
6.8
72.5
714
28.1
1955
77.0
129.3
285
2
2