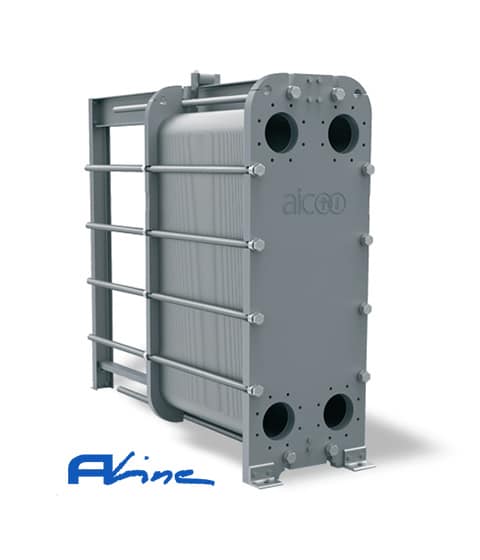 A-Line Heat Exchangers
Plate and Frame Heat Exchangers
AIC is pleased to introduce the latest plate and frame technology to the heat transfer marketplace.
At the heart of the efficient A-Line Heat Exchanger system are a series of models available in a variety of materials and plate designs. This provides our clients with a flexible, reliable, cost-effective means of achieving precision heat transfer. These advantages make the A-Line Heat Exchanger the ideal choice for chemical, pharmaceutical, HVAC and food industries.
Specifications
Brochure
We offer products of the highest quality and reliability to satisfy our customers' most rigorous demands.
Applications
Chemical Industry
Pharmaceutical Industry
HVAC Industry
Food and Beverage Industry
Marine Industry
Automotive Industry
District Energy
Standard Materials
SS304/SS316/Titanium heating plates
Carbon Steel Frame
EPDM/NBR Gaskets
Standard Working Pressure
Standard Working Temperature

Plates with an extensive range of heat transfer areas
Varying plate thickness
Plate materials: SS 304, SS 316, Titanium, Hastelloy
Glued or Clipped on gaskets
Gasket materials: EPDM, NBR, VITON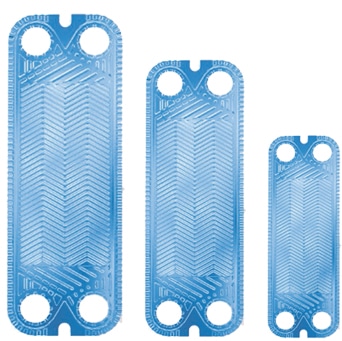 The product information and literature on this website are intended as a guideline for general purposes only. Models, dimensions, and operational parameters are subject to change at AIC's discretion. Contact AIC directly for updated design specifications.
A-Line Technical Product Specifications
Model No.
Approximate Dimensions of Assembled Unit
Area Per Plate
Standard Connection
Width
Height
Max Length
in
mm
in
mm
in
mm
ft2
m2
in
mm
A40
7.0
178.0
24.0
610.0
32.0
813.0
0.46
0.04
1.0
25.0
A80
10.0
254.0
30.0
762.0
35.0
889.0
0.81
0.08
2.0
50.0
A90
13.0
330.2
25.5
648.0
47.1
1195.0
0.86
0.08
2.5
65.0
A120
13.0
330.2
33.0
838.0
47.1
1195.0
1.29
0.12
2.5
65.0
A130
13.0
330.0
33.0
838.0
49.0
1245.0
1.40
0.13
2.0
50.0
A160
18.4
466.7
34.8
883.0
91.4
2322.0
1.72
0.16
4.0
100.0
A200
13.0
330.0
43.0
1092.0
49.0
1245.0
2.15
0.20
2.0
50.0
A230
13.0
330.2
47.3
1200.0
47.1
1195.0
2.47
0.23
2.5
65.0
A250
28.4
720.7
48.8
1238.0
155.6
3952.0
2.69
0.25
6.0
150.0
A260
18.4
466.7
44.0
1118.0
91.4
2322.0
2.80
0.26
4.0
100.0
A40
7.0
178.0
24.0
610
32.0
813.0
0.46
0.04
1.0
25.0
A280
20.0
508.0
49.0
1245.0
93.0
2362.0
3.01
0.28
4.0
100.0
A360
18.4
466.7
53.5
1359.0
91.4
2322.0
3.87
0.36
4.0
100.0
A450
20.0
508.0
66.0
1676.0
93.0
2362.0
4.84
0.45
4.0
100.0
A460
18.4
466.7
63.0
1600.0
91.4
2322.0
4.95
0.46
4.0
100.0
A40
7.0
178.0
24.0
610
32.0
813.0
0.46
0.04
1.0
25.0
A550
28.4
720.7
67.5
1715.0
155.6
3952.0
5.92
0.55
6.0
150.0
A590
34.9
885.8
64.0
1626.0
156.4
3971.0
6.46
0.60
8.0
230.0
A840
28.4
720.7
86.0
2184.0
155.6
3952.0
9.15
0.85
6.0
150.0
A930
34.9
885.8
77.9
1978.0
156.4
3971.0
10.01
0.93
8.0
230.0
A1080
34.9
885.8
86.3
2191.0
156.4
3971.0
11.62
1.08
8.0
230.0
A1090
45.5
1155.7
91.0
2311.0
176.3
4477.0
11.73
1.10
14.0
350.0
A1150
28.4
720.7
104.8
2661.0
155.6
3952.0
12.37
1.15
6.0
150.0
A1400
34.9
885.8
100.0
2540.0
156.4
3971.0
15.06
1.40
8.0
230.0
A1450
28.4
720.7
123.5
3137.0
155.6
3952.0
15.60
1.45
6.0
150.0
A1750
45.5
1155.7
115.5
2934.0
176.3
4477.0
18.83
1.75
14.0
350.0
A1850
34.9
885.8
123.1
3127.0
156.4
3971.0
19.91
1.85
8.0
230.0
A2450
45.5
1155.7
140.0
3556.0
176.3
4477.0
26.89
2.45
14.0
350.0
A3150
45.5
1155.7
163.9
4162.0
176.3
4477.0
33.89
3.15
14.0
350.0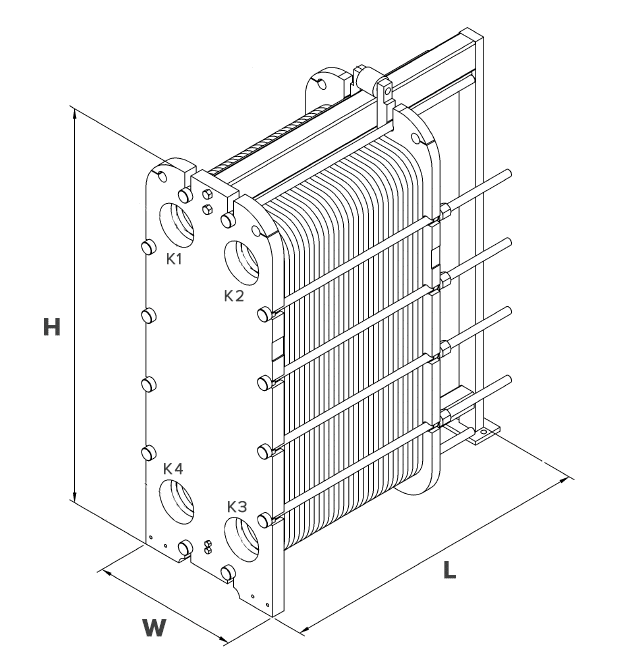 PLATES
Standard
Optional
SS304
TITANIUM PALLADIUM
SS 316
HASTELLOY C276, C22, B-2
TITANIUM
AVESTA 254 SMO
NICKEL 201
INCOLOY 825
FRAME
Standard
Optional
CARBON STEEL
SS304 SANDBLASTED
EPOXY PAINTED
SS316 SANDBLASTED
GASKETS
Standard
Optional
NITRILE
PTFE
EPDM
AFLAS
VITON
SILICON
HYPALON
CONNECTIONS
Standard
Optional
THREADED NPT SS316L
TRI-CLAMP SS316L
RAISED FACE & STUDS
THREADED NPT TITANIUM
LINED FLANGE SS316
LINED FLANGE TITANIUM
Design Parameters
PRESSURE UP TO 450PSI (3.1MPa)
TEMPERATURE UP TO 350°F (176°C)