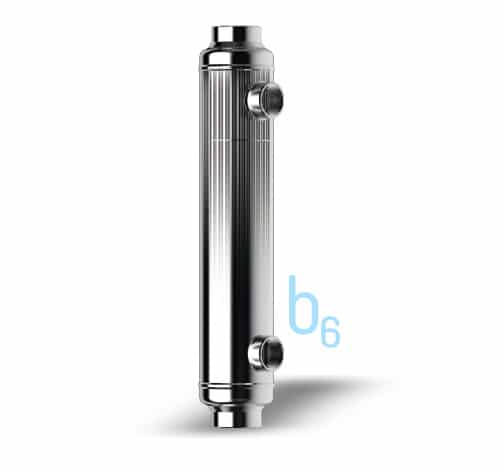 B6-Line Heat Exchangers
Shell and Straight Tube Heat Exchanger
B6-Series heat exchangers are fabricated with the distinctive AIC thin-tube, high-density design. Intended for use with high fluid flows and close approach temperatures, these robust, compact units are ideal for many residential and industrial applications.
B6 heat exchangers have a performance closer to their compact brazed plate type counterparts owing to the unique thin-tube design tailored for flows in pool applications. Their complete stainless steel welded structure ensures product strength and high quality performance.
Specifications
Brochure
Video
Exceptional Thermal Performance
Typical applications include
Chlorinated pools, spas, hot tubs
Transmission and engine coolers
Oil coolers
Boiler sample cooler
Waste water heat recovery
In-floor heating
Standard Materials
Maximum Working Pressure
Maximum Working Temperature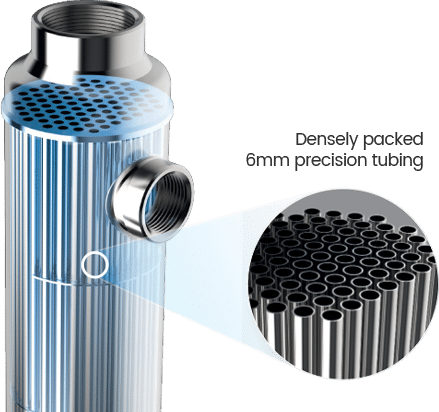 The AIC series of Pool Products define innovation with attention to design excellence and uncompromising quality.
A product with a purpose. Complete welded construction with high strength 316L stainless steel, underlined by distinctive densely packed precision tubing, this series is formulated for consistent, reliable performance with high fluid velocities and a close temperature approach.
Experience an AIC Pool Power Product: heat exchangers that are efficient in nature, compact in design, and pioneering at heart.

Distinct Advantages
Dense heat transfer area
Low pressure drops
Specifically designed for low temperature sources
Vertical mounting
Quick and easy installation
Typical Swimming Pool Installation
Boiler
Heat Exchanger
Swimming Pool
Pump
Filtration
Chlorine Feeder
Circulation Pump
Flow Control Valve
Gate Valve
Check Valve
Thermometer
Safety Relief Valve
The product information and literature on this website are intended as a guideline for general purposes only. Models, dimensions, and operational parameters are subject to change at AIC's discretion. Contact AIC directly for updated design specifications.
B6-Line Technical Product Specifications
Heat Exchanger Model
Nominal Capacity
Hot Water Side (Shell)
Cold Water Side (Tubes)
Flow
Pressure Drop
Flow
Pressure Drop
kW
Btu/Hr
l/min
USGPM
kPa
PSI
l/min
USGPM
kPa
PSI
B6-280
82
280,000
125
33.0
22.4
3.3
250
66.1
14.8
2.2
B6-390
114
390,000
260
68.7
30.6
4.4
520
137.4
26.8
3.9
B6-700
205
700,000
215
56.8
14.3
2.1
430
113.6
25.0
3.6
B6-1200
352
1,200,000
238
62.9
25.2
3.7
476
125.8
47.0
6.8
Nominal values are based on heating water 180°F (82.2°C ) and return pool water 80°F (26.7°C )

Heat Exchanger Model
Dimensions
Connections
Heat Transfer Area
L
A
B
C
Ø D
F
G
mm
in
mm
in
mm
in
mm
in
mm
in
Shell
Tubes
㎡
sq ft
B6-280
400.0
15.7
94.5
3.7
240.0
9.4
80.0
3.1
80.0
3.1
1"
1 1/2"
0.47
5.10
B6-390
373.0
14.7
117.6
4.6
193.0
7.6
90.0
3.5
103.6
4.1
1 1/2"
2"
0.60
6.50
B6-700
622.0
24.5
117.6
4.6
442.0
17.4
90.0
3.5
103.6
4.1
1 1/2"
2"
1.15
12.40
B6-1200
1075.0
42.3
117.6
4.6
895.0
35.2
90.0
3.5
103.6
4.1
1 1/2"
2"
2.14
23.00