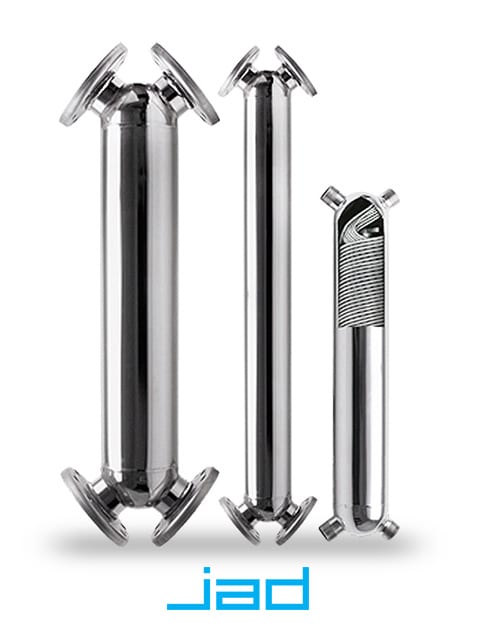 JAD Line Heat Exchangers
Stainless Steel and Coil Heat Exchangers
JAD shell & coil heat exchangers are distinctly characterized by their angular connections, and by the concentric layers of helically corrugated tubes within the shell. This unique design optimizes the performance and heat transfer efficiency of the units.
This line of heat exchangers is primarily designed for vertical installations and combined with their compact size, the JAD heat exchangers can be installed in virtually any application where space is a constraint.
Specifications
Brochure
Video
JAD-Line Compact Vertical Heat Exchangers
Quality & Unique Fabrication
Shell & Coil Models are available in:
Smooth or corrugated tubes
H-Type: Straight, 90° angle connections
Standard Materials
Stainless Steel 316L
Complete welded structure
Maximum Working Pressure
Maximum Working Temperature
Larger models of the shell and coil heat exchangers are designed to different parameters. Call AIC for details.

The strength and durability of JAD heat exchangers are due to their fully welded, stainless steel 316L construction.
The JAD angular connections accommodate smooth, gradual flow entrances and exits from the unit, reducing any sharp corners that can result in flow separation and where dirt buildup can occur.
The vertical configuration has the intrinsic advantage of being used as a condenser or evaporator for supporting changes of fluid phases within the unit (e.g. steam to liquid). The small footprint results in less installation space requirements and low installation costs. It is ideal for applications with space constraints.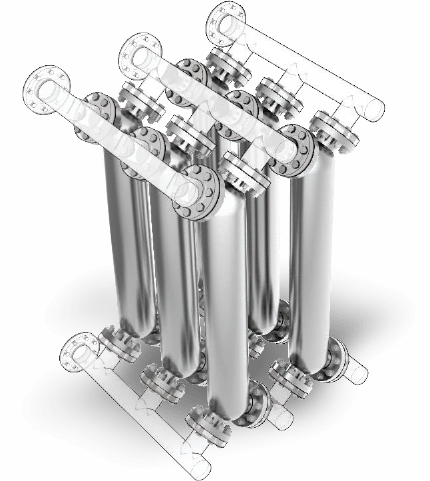 Advantages
Compact with high heat transfer
Stainless steel 316L
Complete welded structure
Enhanced turbulent flow
Enhanced structural support
Enhanced heat transfer coefficient
Cost efficiency
Vertical mounting
Quick and easy installation
Applications
Central heating systems
Solar & geothermal heating
Hydronic heating
Steam sub-cooling
Clean steam generators
Thermosiphon reboiler
Boiler sample coolers
Vent Condensers
Features
Compact footprint
Angular connections
Concentric layered coils
Helically corrugated tubes
Small to large applications
H-Type for straight connections
Standard class flange or NPT connections
Easy to install in series or parallel
The product information and literature on this website are intended as a guideline for general purposes only. Models, dimensions, and operational parameters are subject to change at AIC's discretion. Contact AIC directly for updated design specifications.
JAD-Line Technical Product Specifications
Type
Heat Transfer Area
Height
Diameter
Connections
m²
sq ft
mm
in
mm
in
in
Helically Corrugated Tubes
H-0K
0.29
3.1
615
24.20
80
3.15
3/4
H-1K
0.76
8.2
836
32.91
102
4.00
1
H-2K
1.32
14.2
1,096
43.15
102
4.00
1
JAD XK 2.11
1.20
12.9
1,458
57.40
80
3.15
1 1/2
JAD XK 2.11.08.68
0.63
6.8
781
30.73
80
3.15
1 1/2
JAD XK 3.18
2.00
21.5
1,461
57.52
102
4.00
2
JAD XK 3.18.08.75
1.20
12.9
868
34.16
102
4.00
2
S-0XK
2.30
24.8
874
34.38
140
5.50
2
S-1XK
3.14
33.8
981
38.62
159
6.26
2 1/2
JAD XK 5.38
4.00
43.1
1,475
58.08
140
5.50
2
JAD XK 5.38.08.71
2.30
24.8
873
34.38
140
5.50
2
JAD XK 6.50
5.70
61.4
1,508
59.37
159
6.26
3
JAD XK 6.50.08.72
3.14
33.8
923
36.34
159
6.26
3
JAD XK 9.88
10.70
115.2
1,484
58.43
219
8.63
4
JAD XK 9.88.08.85
6.20
66.7
1,084
42.68
219
8.63
4
JAD XK 9.88.08.65
4.97
53.5
884
34.80
219
8.63
4
JAD XK 12.114
18.40
198.1
1,678
66.06
273
10.75
4
JAD XK 12.114.08.75
8.78
94.5
1,028
40.47
273
10.75
4
JAD XK 12.114.08.60
6.46
69.5
878
34.57
273
10.75
4
JAD XK 12.114.08.50
6.25
67.3
778
30.63
273
10.75
4
JAD XK 14.163.08.120
25.00
269.1
2,088
82.64
324
12.75
4
JAD XK 17.340.08.120
60.80
654.4
2,348
92.44
508
20.00
5
Smooth Tubes
JAD X 2.11
1.20
12.9
1,458
57.40
80
3.15
1 1/2
JAD X 3.18
2.00
21.5
1,461
57.52
102
4.00
2
JAD X 5.38
4.00
43.1
1,478
58.19
140
5.50
2 1/2
JAD X 6.50
5.70
61.4
1,508
59.37
159
6.26
3
JAD X 9.88
10.70
115.2
1,484
58.43
219
8.63
4
JAD X 12.114
18.40
198.1
1,678
66.06
273
10.75
4
Threaded connections available up to 2-1/2 inch
Flange connections available from 2 inch and larger - compatible to PN 10/PN 16 or ANSI 150lb / 300lb