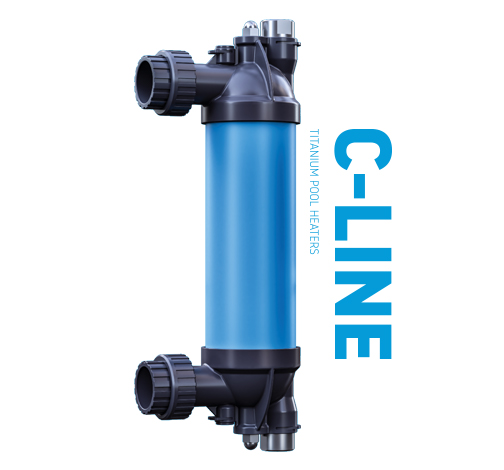 C-Line Titanium Pool Heaters
Swimming Pool Heat Exchangers
AIC introduces the all-new C-line heat exchangers designed for swimming pool applications. With a titanium coil and carefully chosen thermoplastic materials, the C-line guarantees outstanding resistance to corrosion, making it perfect for all kinds of pools.
Specifications
Brochure
Manual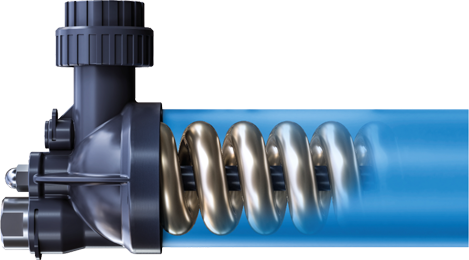 Titanium Pool Heat Exchangers
Available in three power outputs, C-line heat exchangers are designed to perform in variety of swimming pool applications.
Contact Us
Applications
Polls, spas , hot tubs
Applications with high chlorinated/saltwater concentrations
Removable tube bundle
Mounting brackets
Optional temperature sensors
Standard Materials
Titanium Coil
Plastic shell
Maximum Working Pressure
70psi (5 bar) in Tube and Shell side
Maximum Working Temperature
210F ( 99C) Tube side ( heating water)
120F (50C) Shell side (pool water)
Sample Installation Diagram

Boiler
Heat Exchanger
Swimming Pool
Pumps
Filtration
Chlorine Feeder
Circulation Pump
Flow Control Valve
Gate Valve
Check Valve
Thermometer
Safety Relief Valve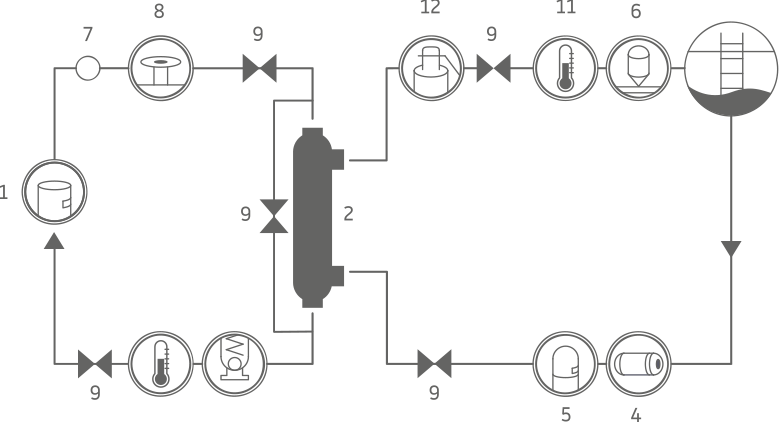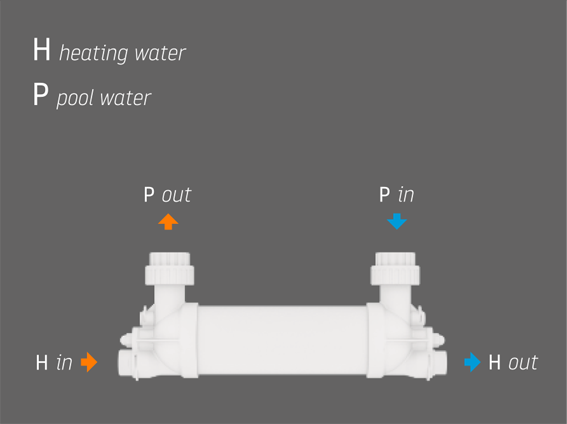 The product information and literature on this website are intended as a guideline for general purposes only. Models, dimensions, and operational parameters are subject to change at AIC's discretion. Contact AIC directly for updated design specifications.
C-Line Product Specifications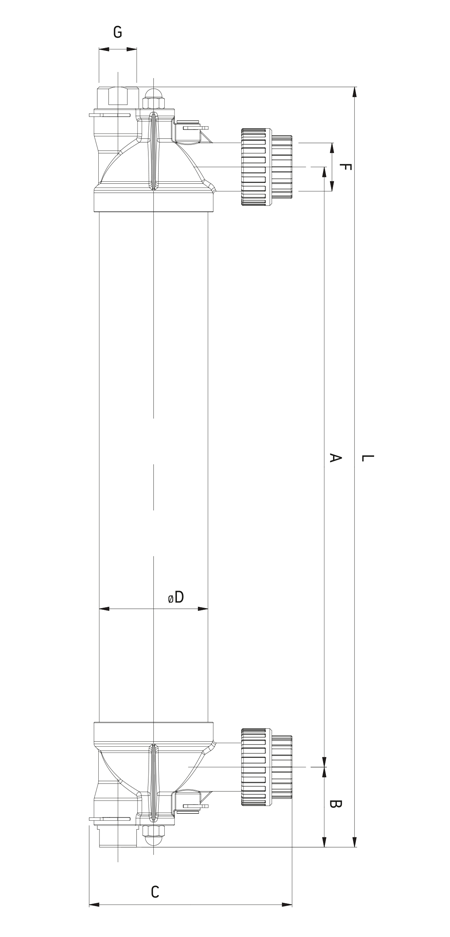 C-150
C-250
C-350
kw
kBTU/h
kw
kBTU/h
kw
kBTU/h
Nomial Capacity
44
150
78
265
100
340
l/min
USGPM/h
l/min
USGPM/h
l/min
USGPM/h
Heating Water Flow
53
14
58
15
61
16
l/min
USGPM/h
l/min
USGPM/h
l/min
USGPM/h
Pool Water Flow
300
77
300
77
300
77
Nomial Values are based on 60°C (250°F) temperature difference between incoming and heated water. For general reference only. Please consult our office for product selection verification
Dimensions
mm
in
mm
in
mm
in
L
525
20.6
770
30.3
945
37.2
A
362
14.2
607
23.9
782
30.8
B
81
3.2
81
3.2
81
3.2
C
205
8.8
205
8.0
205
8.0
∅D
110
4.3
110
4.3
110
4.3
F
-
1.5
-
1.5
-
1.5
G
-
1
-
1
-
1
Pool Capacity*
USGAL
m3
USGAL
m3
USGAL
m3
13000
50
22500
85
32000
120
*Heat Echanger Selection. For general reference only. Please consult out office for product selection verification. Based on 180°F (82.4°C) supply water and specified nominal flows

N1: Heating Fluid IN
N2: Heating Fluid OUT
N3: Cold Fluid OUT
N4: Cold Fluid IN