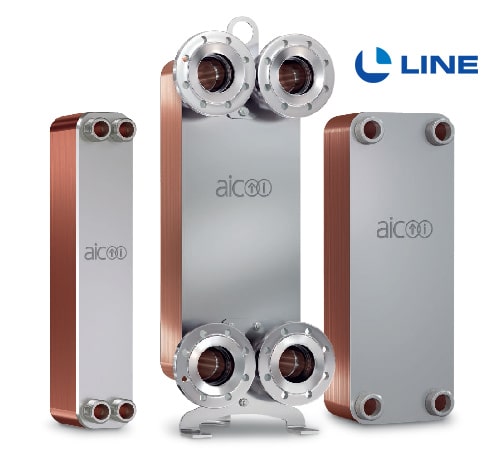 L-Line Brazed Plate Heat Exchangers
Designed for Maximum Performance
Brazed plate heat exchangers consist of stainless steel plate plates, which have embossed chevron patterns. The plates are turned 180° to each other, causing the plate ridges to intersect, and creating a lattice of intersecting channels. The fluids can flow in counter-current or co-current way.
Special corrugation patterns promote high turbulence flow. Turbulence dramatically improves heat transfer rates and reduces the amount of deposits inside the unit.
Specifications
Brochure
Choose from Single or Double Wall Brazed Plates
Applications
Condensers and evaporators in refrigeration systems
Oil coolers
Close approach fluid-to-fluid heat transfer
Industrial process heat recovery
Solar and geothermal heating
Hydronic heating and cooling
District heating and cooling
Gas cooling
Standard Materials
Stainless Steel SS316L Heating Plates
Brazing Materials
Copper, Nickel, and Stainless
Maximum Working Pressure
Maximum Working Temperature
Single Brazed Plate Advantages
Compact models with high heat transfer capacity Stainless steel plates with corrugated surface ensure turbulent flow and structural support to the unit High heat transfer coefficient Cost efficiency Single or double wall option. Copper, nickel and stainless brazing material available Quick and easy installation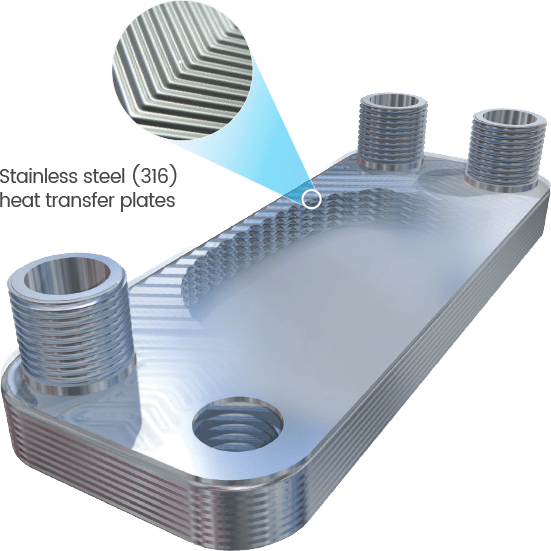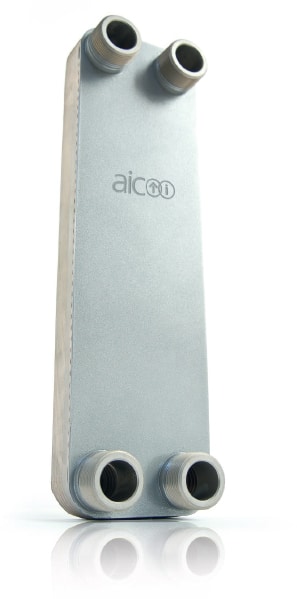 Double Wall Brazed Plate Heat Exchangers
The design of the double wall brazed plate heat exchanger reduces the risk of cross contamination of fluid streams if there is an internal leak within the unit.
Two stainless steel plate walls separate the fluid streams, with an air gap in between. In the event of a leak, the affected fluid will flow into the air gap and escape out of the heat exchanger, enabling visual detection of the leak.
Advantages of Double Wall Brazed Plate Heat Exchangers
Visual leak detection
Reduces risk of fluid cross-contamination
High thermal efficiency
Compact design, small footprint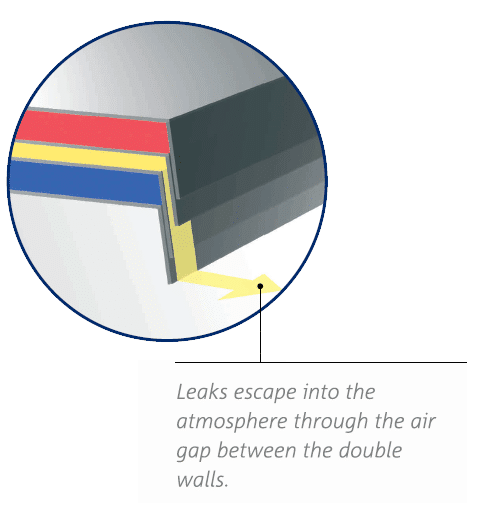 The product information and literature on this website are intended as a guideline for general purposes only. Models, dimensions, and operational parameters are subject to change at AIC's discretion. Contact AIC directly for updated design specifications.
L-Line Technical Product Specifications - Single Wall
Model
Dimensions mm(in)
Maximum Flow
Max. Number of Plates
Weight (Empty)
A
B
C
D
F
L/min(GPM)
kg(lb)
LA 14
194(7.6)
80(3.1)
154(6.1)
40(1.6)
10+2.3NP(0.39+0.09NP)
110(29)
60
0.8+0.05NP(1.8+0.10NP)
LA 22
300(11.8)
79(3.1)
260(10.2)
42(1.7)
9.0+2.3NP(0.36+0.09NP)
68(18)
60
1.1+0.09NP(2.4+0.20NP)
LA 34
468(11.5)
80(3.1)
432(17.0)
42(1.7)
9.0+2.3NP(0.36+0.09NP)
68(18)
60
1.7+0.12NP(3.7+0.26NP)
LB 31
306(12.0)
126(5.0)
250(9.8)
70(2.8)
10+2.5NP(0.39+0.10NP)
212(56)
150
1.6+0.15NP(3.5+0.33NP)
LB 47
414(16.3)
122(4.8)
360(14.2)
68(2.7)
10+2.5NP(0.39+0.10NP)
212(56)
150
2.1+0.18NP(4.6+0.40NP)
LB 60
506(19.9)
126(5.0)
444(17.5)
64(2.5)
10+2.5NP(0.39+0.10NP)
212(56)
150
3.5+0.24NP(7.7+0.53NP)
LC 110X
530(20.9)
248(9.8)
456(17.9)
174(6.9)
11.5+2.4NP(0.45+0.09NP)
450(119)
200
7.2+0.52NP(15.8+1.14NP)
LC 110H
463(18.2)
255(10.0)
378(14.9)
170(6.7)
10.0+2.4NP(0.39+0.09NP)
550(145)
200
4.3+0.39NP(9.4+0.86NP)
LC 110L
463(18.2)
255(10.0)
378(14.9)
170(6.7)
10.0+2.4NP(0.39+0.09NP)
650(172)
200
4.3+0.39NP(9.4+0.86NP)
LC 110Y
523(20.6)
241(9.5)
430(16.9)
148(5.8)
13.4+2.8NP(0.53+0.11NP)
700(185)
200
7.2+0.55NP(15.8+1.21NP)
LC 110Z
523(20.6)
241(9.5)
430(16.9)
148(5.8)
13.4+2.8NP(0.53+0.11NP)
900(238)
200
7.7+0.55NP(16.9+1.21NP)
LC 170
685(27.0)
255(10.0)
600(23.6)
170(6.7)
10.0+2.4NP(0.39+0.09NP)
500(132)
200
5.9+0.60NP(13.0+1.32NP)
LD 235
784(30.9)
306(12.0)
682(26.9)
204(8.0)
12.0+2.6NP(0.47+0.10NP)
1500(396)
280
19.0+0.81NP(41.8+1.78NP)
LE 400
1008(39.7)
387(15.2)
861(33.9)
240(9.4)
17.0+2.75NP(0.67+0.10NP)
4000(1056)
400
100+1.8NP(221+3.97NP)
NP-Number of Plates
Standard Construction:
Plates & Connections: AISI 316
Brazing Material: Copper (Optional - Nickel, Stainless)
Single Wall Plates (Optional - Double-Wall)
Design Parameters:
Working Temperature up to 230°C (445°F)
Working Pressure up to 45 bar (650 PSI)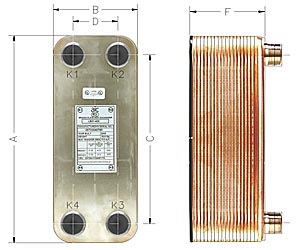 Standard Connections
Model
Solder
Threaded
Standard
d* (in)
d (in)
LA 14
7/8"
3/4"
LA 22
7/8"
3/4"
LA 34
1 1/8"
1"
LB 31
1 1/8"
1"
LB 47
1 1/8"
1"
LB 60
1 1/8"
1"
LC 110X
1 5/8", 2"
1 1/2", 2"
LC 110H
1 5/8"
2 1/2"
LC 110L
1 5/8"
2 1/2"
LC 110Y
1 5/8"
2 1/2"
LC 110Z
1 5/8"
3"
LC 170
1 5/8"
2 1/2"
LD 235
2 1/8"
3" (Flange)
-
4" (FLANGE)
* inner diameter of connection
L-Line Technical Product Specifications - Double Wall
Model
Dimensions mm(in)
Maximum Flow
Max. Number of Plates
Weight (Empty)
A
B
C
D
F
L/min(GPM)
kg(lb)
LA14DW
201(7.9)
80(3.1)
164(6.5)
42(1.7)
10+2.4NP(0.39+0.09NP)
110(29)
60
0.8+0.05NP(1.8+0.10NP)
LA22DW
300(11.8)
80(3.1)
260(6.5)
42(1.7)
10+2.4NP(0.39+0.09NP)
68(18)
60
1.1+0.08NP(2.4+0.18NP)
LA34DW
469(18.5)
80(3.1)
432(17.0)
42(1.7)
10+2.4NP(0.39+0.09NP)
68(18)
60
1.7+0.12NP(3.7+0.26NP)
LB31DW
286(11.3)
117(4.6)
232(9.1)
68(2.7)
10+2.5NP(0.39+0.10NP)
212(56)
150
1.9+0.12NP(4.2+0.26NP)
LB31DW
414(16.3)
117(4.6)
360(14.2)
68(2.7)
10+2.5NP(0.39+0.10NP)
212(56)
150
2.3+0.19NP(5.1+0.42NP)
LB60DW
534(21.0)
117(4.6)
480(18.9)
68(2.7)
10+2.5NP(0.39+0.10NP)
212(56)
150
2.6+0.24NP(5.7+0.53NP)
LC110DW
463(18.2)
225(8.9)
378(14.9)
170(6.7)
11+2.5NP(0.43+0.10NP)
550(146)
200
4.3+0.39NP(9.5+0.86NP)
LC170DW
685(27.0)
225(8.9)
600(23.6)
170(6.7)
11+2.5NP(0.43+0.10NP)
500(132)
200
5.9+0.6NP(13+1.32NP)
LD235DW
784(30.9)
306(12.0)
68(26.9)
204(8.0)
13+2.5NP(0.51+0.10NP)
1500(396)
280
19.0+0.81NP(41.8+1.78NP)
NP-Number of Plates
Standard Construction:
Double Wall Plates
Plate Material: ANSI 316
Brazing Material: Copper
Design Parameters:
Working Temperature up to 230°C (445°F)
Working Pressure up to 33.2 bar (481 PSI)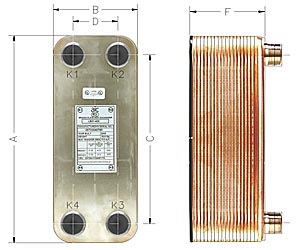 Standard Connections
Model
Solder
Threaded
Double Wall
d* (in)
d (in)
LA14DW
7/8"
3/4"
LA22DW
7/8"
3/4"
LA34DW
1 1/8"
1"
LB31DW
1 1/8"
1"
LB47DW
1 1/8"
1"
LB60DW
1 1/8"
1"
LC110DW
1 5/8"
2 1/2"
LC170DW
1 5/8"
2 1/2"
LD235DW
2 1/8"
3"
* inner diameter of connection