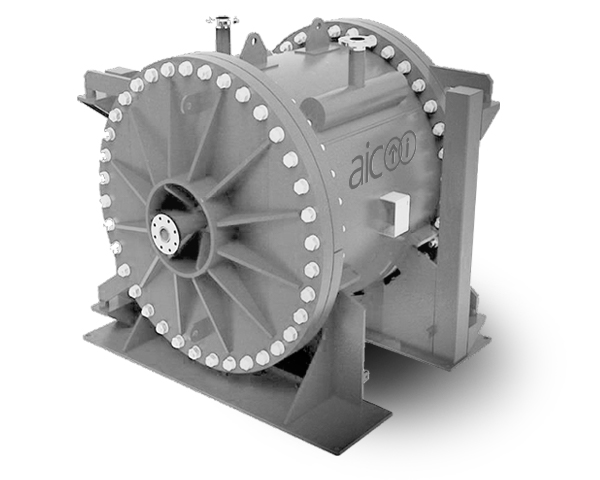 SPIRAL Heat Exchangers
AIC Spiral Heat Exchangers are custom crafted solutions for challenging, high-viscosity media. The unique circular chamber design, with two spiral channels, is ideal for sludges, slurries, waste water, wood pulps, high viscosity hydrocarbons, and fouling liquids containing fibers and solids.
Applications
Dairy/food/beverage industry
Biogas industry
Wastewater industry
Pulp and paper industry
Heavy industry
Petrochemical industry
Chemical industry
Maximum Working Parameters
Standard Working temperature up to 200 °C (392 °F)
Standard Working pressure up to 10 bar (145 psi) – higher pressure rating optional
Standard Materials
Shell : Carbon Steel
Spiral Components : Carbon Steel , Stainless Steel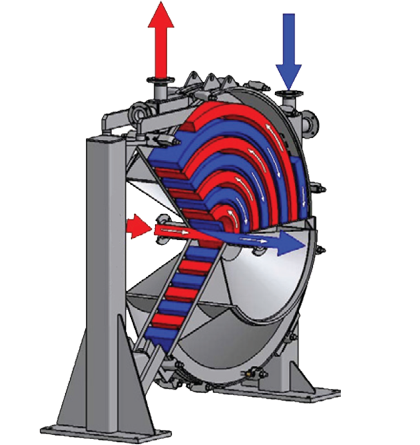 Concentric Spiral Plate Coils
The ingenuity of AIC's Spiral Heat Exchangers lies in the concentric spiral plate coils nested within the shell.  The coils form two distinct channels, with a counter current flow arrangement, which allow the spiral heat exchangers to achieve very close temperature approaches.
Quality & Unique Fabrication

A. Standard spacing channels option for clean fluids – Enhances heat transfer rate
B. Free flow channels option for dirty media – Prevents clogging
Single-channel design generates high shear rates, which contribute to a self-cleaning effect, preventing clogging of the unit.  The perfect solution for challenging, high-viscosity media.
The channel size is selected to fit the flow and qualities of the media. The many variations in diameters and widths of the spiral coil allow for many different combinations, creating the optimal solution for every duty.
Designed to handle a very aggressive temperature program, and with a wide range of materials and plate thicknesses available, each spiral heat exchanger is customized to match the requirements of any application.
Low product maintenance ensures extended operational uptime. Should the need arise, the hinged covers provide easy access to the entire heat transfer surface.
Compact spiral design requires minimal operating space. The long, curved flow paths allow for heat transfer coefficients up to double that of a shell and tube equivalent.