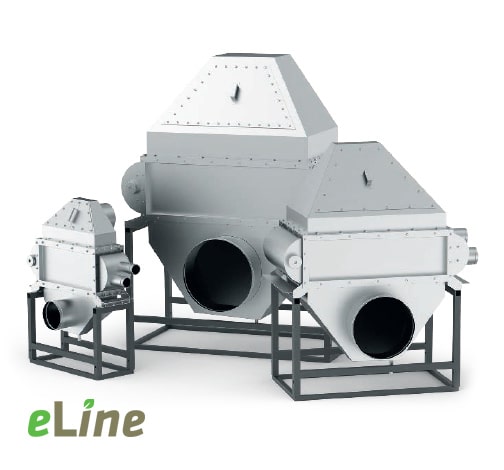 E-Line Economizers
Air to Water Heat Exchangers
AICs standard line of E-Line economizers is the optimal solution for boiler flue gas heat recovery.
Covering a wide range of boiler sizes, the E-Line delivers real energy and cost savings for commercial and industrial installations. In principle the E-Line economizers act as air to water heat exchangers. Flue gas, typically considered wasted heat, can be effectively cooled down and condensed through the AIC system. This cooling and condensing process releases and transfers excess energy from the flue gas to process fluids flowing through the tubes.
Specifications
Brochure
Video
High Efficiency Condensing Economizers
Improve Heat Recovery & Boost Boiler Efficiencies
Typical economizer applications include
District heating systems
Greenhouses
Food processing plants
Pulp and paper mills
Textile plants
Dairy processing facilities
Hospitals
Plume abatement
Standard Materials
Standard Working Pressure
Up to 160 PSI (12 bar) in Tubes (Liquid Side)
Standard Working Temperature
Up to 375 °F (190°C) Tube Side (Liquid Side)

Stainless steel secondary heat exchangers of various design patterns for different heat recovery systems in commercial and industrial applications.
Stainless steel condensing secondary heat exchangers from AIC constitute an integral part of any efficiency improvement program. Typically used with hot water boilers or configured with older type of heating boilers, condensing economizers improve the overall heat recovery system and boost boiler efficiencies.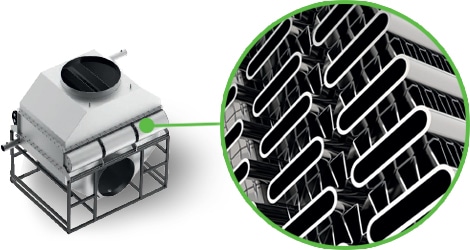 Features & Benefits
Increased system efficiency
Real energy and cost savings
Converts standard boilers into condensing boilers
Increases existing boiler efficiency by up to 20%
Unique tube design for optimal thermal performance
Easy installation, low maintenance
The product information and literature on this website are intended as a guideline for general purposes only. Models, dimensions, and operational parameters are subject to change at AIC's discretion. Contact AIC directly for updated design specifications.
E-Line Economizers Technical Product Specifications
Connection Dimensions
Model
Nominal Boiler Input
Exhaust Inlet
Exhaust Outlet
Water Inlet
Water Outlet
Drain Nozzle
kW
MBTUH
ømm
øin
ømm
øin
mm
in
mm
in
mm
in
E 8.1
150-250
500-850
200
8
200
8
DN65
2-1/2
DN65
2-1/2
DN20
3/4
E 12.1
200-500
650-1700
300
12
300
12
DN65
2-1/2
DN65
2-1/2
DN20
3/4
E 15.1
450-1200
1500-4100
400
16
400
16
DN100
4
DN100
4
DN20
3/4
E 16.1
1100-1500
3750-5100
400
16
400
16
DN125
5
DN125
5
DN20
3/4
E 20.1
1400-2000
4800-6850
500
20
500
20
DN150
6
DN150
6
DN20
3/4
E 28.1
3000-4000
10240-13650
700
28
700
28
DN150
6
DN150
6
DN50
2
E 35.1
4500-6000
13650-20475
900
35
700
28
DN150
6
DN150
6
DN50
2
Larger sizes (multiple-units) or custom-designed economizers available upon individual request.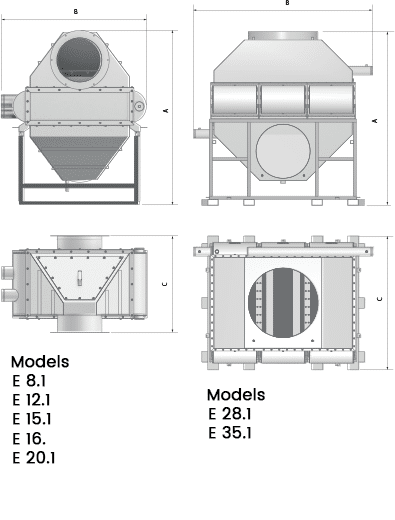 Dimensions
Model
A
B
C
mm
in
mm
in
mm
in
E 8.1
1212
47.72
1010
39.76
506
19.92
E 12.1
1312
51.65
1017
40.04
677
26.65
E 15.1
1562
61.50
1304
51.34
875
34.45
E 16.1
1591
62.64
1339
52.72
897
35.31
E 20.1
2040
80.31
1765
69.49
1082
42.60
E 28.1
2070
81.50
2041
80.35
1734
68.27
E 35.1
2249
88.54
2321
91.38
1730
68.11