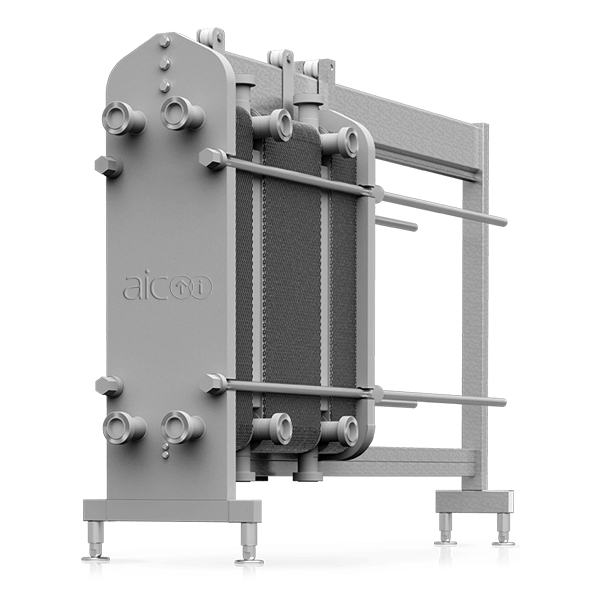 AX-Line Heat Exchangers
The bespoke AX-Line of Sanitary Plate and Frame Heat Exchangers is designed for stringent dairy, beverage, and processed food applications, complying with FDA material standards, and conforming to strict hygienic demands of the food and dairy industry.
A blend of performance and refined engineering details, the AX gasketed plate heat exchanger technology promotes optimal time-temperature heat treatments and consistent control throughout each heating and cooling process, resulting in quality product outputs.
Applications
Milk and cheese pasteurization
Beverage and energy drink and juice pasteurization
CIP heating
Bottled water treatment
RO water
Beer wort heating and beer cooling
Soups, sauces and starch heating
Standard Materials
Heating Plates : SS304 , SS316 , Titanium, SMO , Hastelloy
Frame : Cladded or Stainless Steel
Gaskets : EPDM-HT, NBR-HT, Viton
Standard Working Parameters

Up to 363 PSI (25 bar)
-20°C to 180°C (-4°F to 356°F)
Design Options

Double Wall Plate System
Minimizes risk of fluid cross-contamination.
Two stainless steel walls within a combined plate, with an air gap in between, separate the fluid streams. In the event of a leak, the affected fluid will flow into the air gap and escape out of the heat exchanger, enabling visual detection of the leak.
Multi-Section Design
AX-Line sanitary gasketed plate heat exchangers are available as multi-section solutions – multiple heat exchangers combined into a single installation, divided by intermediate frames.
Accessible construction design for quick and trouble-free inspection, maintenance, and cleaning, including cleaning in place (CIP).
Sturdy nylon rollers make the movable cover slide open effortlessly, and locking bushings with ball bearings allow it to be closed tightly again.
Connections from DN25 to DN800 (1″ to 32″).
Plate heights up to 3.5 m (11.5 ft).
Flow rates up to 1,600 m3/h (7,045 gpm).
Regenerative pasteurizers recycle up to 95% of the energy.