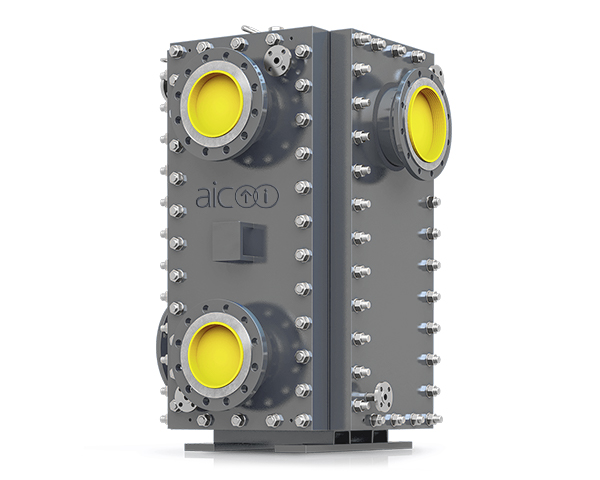 PlateBlock Heat Exchangers
AIC PlateBlock heat exchangers are a compact and durable solution to challenging applications that involve aggressive media, extreme temperatures, and high pressures. Fully welded plate packs with no exposed gaskets, they offer numerous cost, size, and performance advantages.
Applications
HVAC industry
Pulp and paper industry
Heavy industry
Mining industry
Petrochemical industry
Chemical industry
Oil and gas production
Steam heaters and reboilers
Condensers with condensate sub-cooling
Maximum Working Parameters
Standard Working temperature -20 °C to +300 °C (-4 °F to +572 °F) – lower temperature rating optional
Standard Working pressure up to 25 bar (363 psi) – higher pressure rating optional
Standard Materials
Shell: Carbon Steel, Stainless Steel
Spiral Components: Stainless Steel, Titanium, – other materials available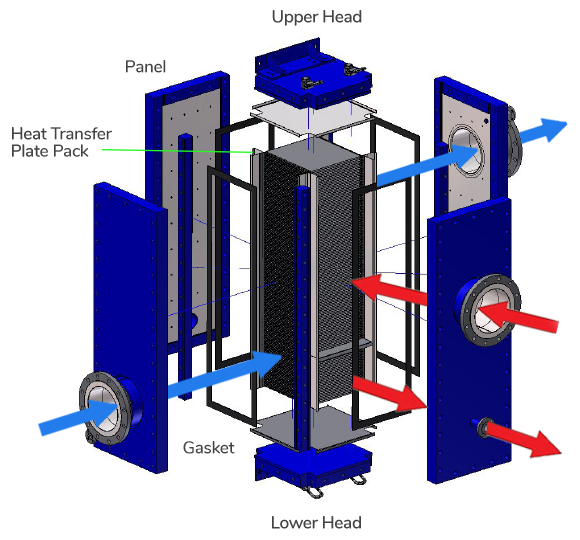 Cross-Flow Heat Exchanger
AIC PlateBlock is a cross-flow heat exchanger with two fluids passing between alternate corrugated plate channels.
The welded plate pack is enclosed by upper and lower heads, in addition to four side panels.
The entire plate pack is accessible from all sides with no additional space required.
Maintenance and cleaning is less time consuming and space demanding as all the panels on the heat exchanger can easily be removed on site.
Corrugated plate pattern creates a turbulent flow that diminishes the risk of fouling and clogging on both sides . Perfect solution for crude oil refineries and petrochemical plants.
Compact operating space due to plate pack design, which provides even flow distribution and optimized surface utilization.
High heat recovery due to close temperature approach and ability to handle crossover temperatures.
Flexible construction allows for different multipass configurations on each circuit, enabling big disparity in both media's flow rates without compromising pressure drops.
Adaptable process design engineered for vertical or horizontal mount. Operates in co-current or counter-current flow mode, for single and two-phase duties.
Robust structure provides reliable performance in harsh high temperature and high pressure conditions.